Lahore: Pakistan's number one TikToker and budding actress Jannat Mirza became the most followed personality on TikTok in Pakistan.
While sharing an Insta story on the photo and video sharing platform Instagram, 22-year-old Janat Mirza shared a screenshot of his Tik Tok account, according to which his number of followers has reached 22 million.
At the same time, Tik Tokkar thanked his fans and wrote that 'getting 22 million followers is a big achievement for me, thank you all so much, I will always love you all.'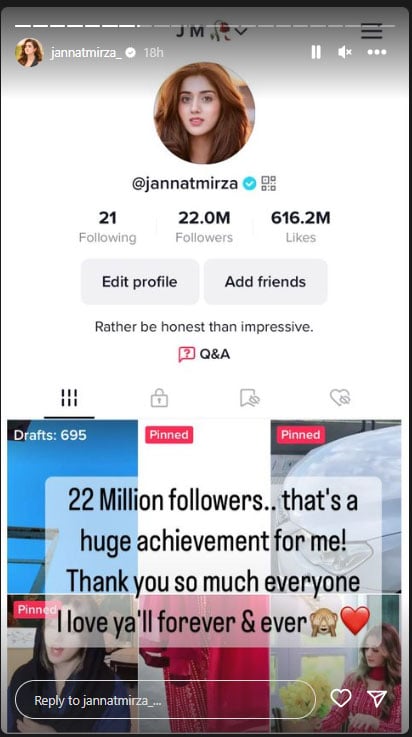 It should be noted that with 22 million followers, Jannat Mirza has become the most followed Tik Toker in Pakistan.
It should be remembered that last few days Tik-Toker Jannat Mirza had announced the end of her engagement with her fiance Umar Butt, which was also confirmed by Umar Butt through his Instagram story.
Later, Jannat Mirza accused Umar Butt of cheating while giving the reason for breaking off the engagement.